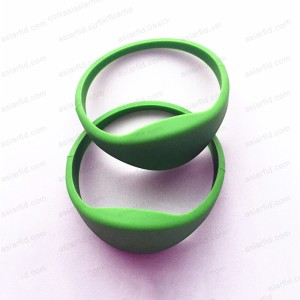 Silicone Wristband 14443A Fudan F08 RFID Wristbands for Access Control
Basic Feature:
Material : Silicone , this is waterproof and friendly material ,that's why silicone RFID wristbands are highly used for access control management and Swimming Pool .
Fudan F08 is 14443A 1K chip , 100% compatible with MF 1K S50 chip ,full function and more economic .
Information about Fudan F08 chip :
Memory Size (bytes):1024
User Memory (bytes):716
Max URL (characters):710
Specification:
Material

Silicone

Available size

Diameter 55 and 62 MM

Available Chips

LF:TK4100,EM4200,EM4305,T5577 etc.

HF:

ISO14443A--NTAG213/215/216,

MF 1K S50/4K S70,FM11RF08,MF DESfire EV1 2K/4K/8K,

TOPAZ512,MF Ultralight/Ultralight C,MF Plus S/X(2K&4K) etc.

ISO15693---I Code SLI/I Code SLI-X/I Code SLI-S/Ti2048

UHF:ALIEN H3/H4,Monza 4D/4E/4QT,Monza5,U Code 7 etc.

personalization

Custom Logo Printing,QR Code Printing,

Laser Engraved UID&Serial Number etc.

Packaging

100PCS/polybag,2000PCS/Carton
Other size and IC types are available on request!




Application

:
Ø Fitness Centres
Ø Ticketing at Water Resorts
Ø Cruises
Ø Spa Hotels
Ø Saunas
Ø Security/Access Control
Ø Trade Shows/Events
Ø Festivals
Picture for reference :