Silicone RFID wristband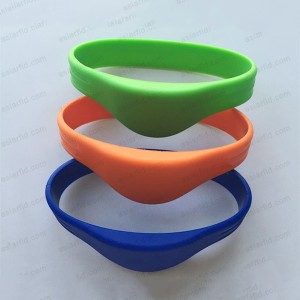 Application of Silicone RFID wristband:
Cashless Payments, Social Media Integration Platforms, Door Access Management, Event Access Control, Customer Loyalty, Membership and Loyalty ProgramsRFID Silicon wristband is water-resistant and durable . The available artwork nclude Silk Screen printing, Debossing, Embossing, UID number debossing .
125KHz:
TK4100, EM4100/4200, EM4305, EM4450, EM4469, T5577, Hitag-1, Hitag-2, etc.
13.56MHz:
MF 1K/4K, NTAG213/215/216, MF Ultralight / -C,MF DESfire 2K/4K/8K, TI2048, I code SLI etc.